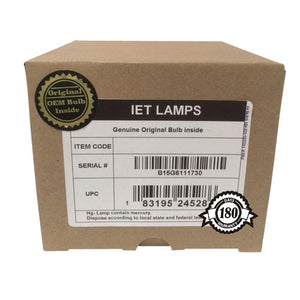 IET Genuine OEM Original Projector lamp for Epson V13H010L49, ELPLP49 (Power by Osram)
Regular price $129.99 Sale
Epson Projector Lamp
OEM Replacement projector lamps for the following Projector Models:
EPSON EH-TW2800
EPSON EH-TW2900
EPSON EH-TW3000
EPSON EH-TW3200
EPSON EH-TW3500
EPSON EH-TW3600
EPSON EH-TW3800
EPSON EH-TW4000
EPSON EH-TW4400
EPSON EH-TW4500
EPSON EH-TW5000
EPSON EH-TW5500
EPSON EH-TW5800
EPSON ELPHC6100w
EPSON ELPHC6500w
EPSON ELPHC8100w
EPSON ELPHC8500w
EPSON Epson Ensemble HD 6100
EPSON Epson Ensemble HD 6500
EPSON Epson Ensemble HD 8100
EPSON Epson Ensemble HD 8500
EPSON H291A
EPSON H292A
EPSON H336A
EPSON H337A
EPSON H373B
EPSON HC6100
EPSON HC8345
EPSON Home Cinema 8345
EPSON Home Cinema 8350 UB
EPSON Home Cinema 8500 UB
EPSON Home Cinema 8700 UB
EPSON PowerLite 6500
EPSON PowerLite 6500UB
EPSON PowerLite 8100
EPSON Powerlite HC6100
EPSON PowerLite Home Cinema 6100
EPSON PowerLite Home Cinema 6500UB
EPSON PowerLite Home Cinema 8100
EPSON Powerlite Home Cinema 8350
EPSON PowerLite Home Cinema 8700
EPSON PowerLite Pro Cinema 7100
EPSON PowerLite Pro Cinema 7500UB
EPSON PowerLite Pro Cinema 9100
EPSON PowerLite Pro Cinema 9350
EPSON PowerLite Pro Cinema 9350 UB
EPSON PowerLite Pro Cinema 9500UB
EPSON PowerLite Pro Cinema 9700UB
EPSON V11H291120
EPSON V11H292020
EPSON V11H293320
EPSON V11H336120
EPSON V11H336420
EPSON V11H338320
EPSON V11H373420
EPSON V11H420320
Original Part Number:
EPSON V13H010L49
EPSON ELPLP49
Warranty: 180 days
We only use original manufacturer bulbs from well-known brands such as Philips, Osram, Ushio, Matsushita and Phoenix. Our housing units are made from durable and high quality materials and are guaranteed to fit properly. This lamp with housing will meet the original manufacturer quality and performance standards. If you are not 100% satisfied with your purchase, send the product back within 30 days for full money back guarantee.