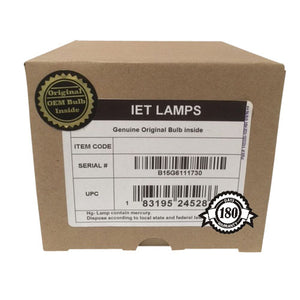 IET Genuine OEM Original Projector lamp for CHRISTIE LW751i, LW751i-D (Power by Philips)
Regular price $299.99 Sale
CHRISTIE Projector Lamp
OEM Replacement projector lamps for the following Projector Models:
CHRISTIE LW751i
CHRISTIE LW751i-D
CHRISTIE LWU701i
CHRISTIE LWU701i-D
CHRISTIE LX801i
CHRISTIE LX801i-D
Original Part Number:
CHRISTIE 003-005336-01
CHRISTIE DT01885
Warranty: 180 days
We only use original manufacturer bulbs from well-known brands such as Philips, Osram, Ushio, Matsushita and Phoenix. Our housing units are made from durable and high quality materials and are guaranteed to fit properly. This lamp with housing will meet the original manufacturer quality and performance standards. If you are not 100% satisfied with your purchase, send the product back within 30 days for full money back guarantee.